Chiropractor
D'Anthony Doss, D.C.
Meet Co-founder and Clinic Director of Adapt Chiropractic Company, Dr. D'Anthony Doss D.C. Born in Peoria Illinois, Dr. D'Anthony grew up in the small cornfield surrounded town Congerville IL. 
Dr. D'Anthony attended Eureka College in Central Illinois (alma mater of former President Ronald Regan) and graduated with a Bachelor's degree in Exercise Science. Soon after graduation, he attended Palmer College of Chiropractic (the birth place of the chiropractic profession) in Davenport Iowa. During his time at Palmer, Dr. D'Anthony served as a Troxell intern, a legendary internship in the chiropractic profession which helps students master the art and science of Gonstead Corrective Care. Dr. D'Anthony graduated Palmer June of 2018 with Cum Laude honors.
After graduation, Dr. D'Anthony worked as an associate doctor in West Omaha for 3.5 years. Dr. D'Anthony met his wife Lydia in Omaha in August of 2019 and was married by October of 2020. He and his wife are self-proclaimed "foodies" and always have a recommendation for food in the Omaha area. Dr. D'Anthony and his wife Lydia founded Adapt Chiropractic Company and officially opened their doors in October of 2021. Dr. D'Anthony loves helping people reach their full health potential and is happy to serve the communities of Papillion, LaVista, Ralston, Bellevue and the Greater Omaha Area!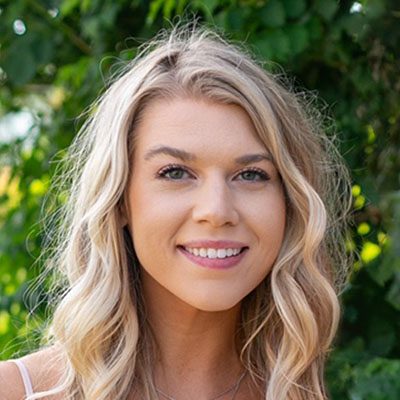 Co-founder & Director of Operations
Lydia Doss
Meet co-founder and Director of Operations Lydia Doss. Lydia is wife to Dr. D'Anthony. She is the youngest of six girls and is from a small Western Iowa town, Castana, IA. Lydia is super passionate about helping others feel cared for, encouraged, and supported while making changes to live their best healthy life.
As the Director of Operations, Lydia oversees our team of Chiropractic Assistants. She makes sure that our daily operations such as scheduling, office events, and office education are smooth and effective. Her goal is to make everyone in our office feel as if they are at home and strives for a family-like atmosphere.
In her spare time, Lydia enjoys spending time with her husband and family, exercising, juicing, and all things fashion and interior design!
Chiropractic Assistant
Aubrey
Aubrey is one of our wonderful Chiropractic Assistants that will greet you with a smile when you walk in our door. Born in East Central Indiana, Aubrey grew up the oldest of four siblings and the daughter of two teachers before moving to Nebraska with her husband.
Aubrey's primary focus includes patient experience, helping with exams, and making sure patients' needs are taken care of at the front desk.
She strives to make everyone feel like family when they walk into our office, regardless of their background or experience with chiropractic care.
In her spare time, Aubrey loves spending time with family and friends, exercising with her husband, substitute teaching, and reading the newest book release.
OFFICE HOURS
---
Monday
7:15am - 11:00am
2:30pm - 6:00pm
---
Tuesday
2:30pm - 6:00pm
---
Wednesday
7:15am - 11:00am
2:30pm - 6:00pm
---
Thursday
7:15am - 11:00am
2:30pm - 6:00pm
---
Friday
Closed
---
Saturday & Sunday
Closed